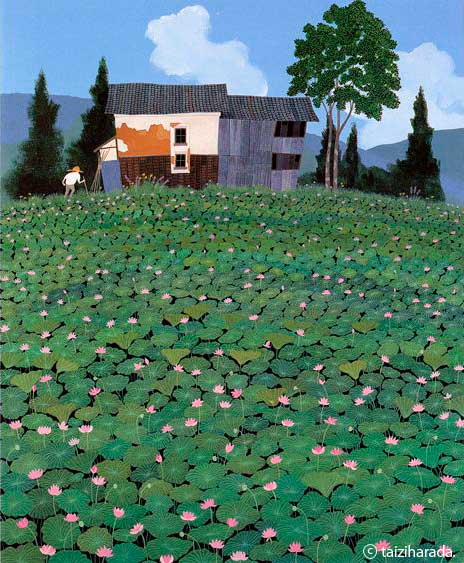 蓮の花
1995年
石川県 白山市
沼や水田の多い地方では、ひときわ美しい蓮田を見かける。夏の青空や入道雲とみょうに合う。それは水上に突きでた茎の上に咲く花のせいだろう。うす紅色の花は開花の時「ポン」と音を立てるという。朝もやの中で見る蓮の花は、とても神秘的である。
Lotus Flower
1995
Ishikawa District, Ishikawa Pref.
In regions with many marshes and rice paddies, one can see the strikingly
beautiful lotus, which contrasts well with the blue sky and billowy clouds
of summer, as the flowers bloom on stems projecting from the water.  It is
said that when the crimson flowers bloom, they produce a short popping
sound.  Lotus flowers in the morning mist are a truly mystical sight.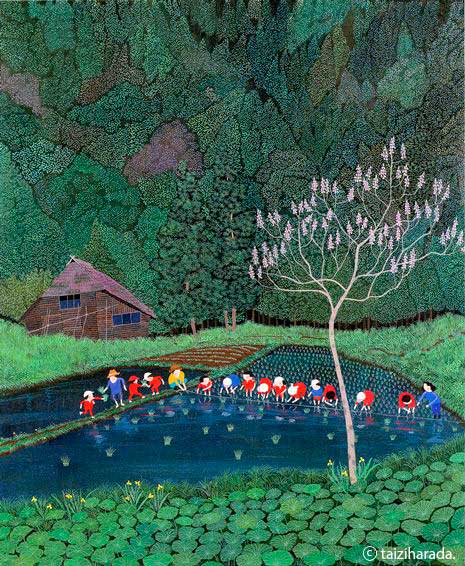 田植えの子供たち
1992年
宮城県 七ヶ宿町
新緑に囲まれた山あいの静かな集落では、桐があざやかに花をつけ、澄んだ空気が小鳥のさえずりを伝えてきた。突然、子供たちのはしゃぎ声が聞こえてきた。先生や父母も手伝って田植えをしていた。汗とどろんこにまみれた顔がキラキラ輝いていた。
Children Planting Rice
1992
Shichigashuku, Miyagi Prefecture
The paulownia flowers bloomed vividly in this serene mountain village
covered in a fresh blanket of green.  The clean air carried the song of
nearby birds, only to be interrupted by the playful voices of children.
Teachers and parents were helping with the rice planting work and the muddy
faces of all shined in the sunlight.